Feral Hogs
Feral Pigs
Wild Pigs
Wild Hogs
Razorbacks
European Wild Boars
Russian Wild Boars
These are all names for the problem
Swine
.
These animals cause a lot of trouble where ever they are found, with a little homework any guy could go out and get some meat as long as they don't have worms,
always check for worms
!
The WDNR did me the favor and saved me some research, here's the link with all the info a hog hunter should need.
WDNR Feral Pig Fact Sheet
Where do you shoot them, I've read that if you don't aim for the vitals behind the ear works well with most larger calibers. The vital area of a pig is directly over the top of elbow joint. Don't shoot to far to the rear unless you want to track the lil piggy.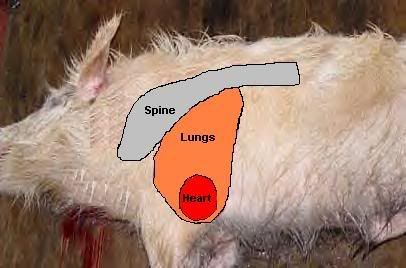 Lets go get some Hogs!
Bill AKA Big Willy